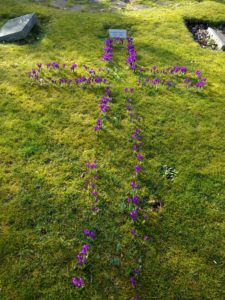 Lent starts on Wednesday 6th March …
A period when we traditionally 'give up something' or 'take something up' to deepen our reliance on God. Through Lent, we allow ourselves time and space to acknowledge who we truly are, and to turn again for healing and hope from God.
Through the journey of Lent we prepare to be able to walk through the events of Holy Week and into the hope and life of Resurrection.
Ash Wednesday marks the start of our 40 days (plus Sundays) journey of Lent … On Ash Wednesday we stand before God and acknowledge our humanity, our brokenness and ask for God's presence as we start the time of penitence and faith in Lent.
At our Ash Wednesday services, we will share Communion and we will also have the opportunity to receive ashes on our forehead as we hear the words 'Remember you are dust and to dust you shall return, repent and believe the Good News'.
At St Marks we will hold Ash Wednesday services at 10am and 7.30pm.
Everyone is welcome to these services.
We will also be holding discussion groups through Lent (5 weeks) on Monday and Tuesday evenings. Please contact us for further details if you would like to come to these. They will be on the theme Daring to See God Now.
New photos and quotations are in our gardens now – the gardens offer a space for quiet prayer and reflection and are always open.