Some of the activities that are going on within the life of the congregation – everyone is welcome to any of our activities, whether you are a member of the congregation or not:
Junior Church which meets every Sunday
Youth Fellowship: Last Sunday of the month 6.30pm-8pm
Wednesday Wonderings: 12-2pm on the last Wednesday of the month … lunch, chatter and topics
Book Group: Monday evenings about once a month, reading a wide variety of books.
Men's Group: meet for coffee and discussion every other Friday at 8.30 in the morning in a coffee shop in Musselburgh.
Discussion Groups and Bible Studies: throughout the year and especially for Lent
Choir: Ad hoc for special occasions
You can s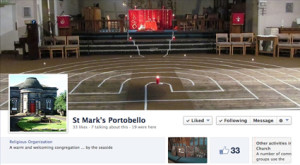 ee details of many of our activities on our Facebook Page – more photos too!
Click here for church contact details.