Advent and Christmas Activities 2017
Advent and Christmas are a very special time in the church around the world and we have a number of services and activities to help you prepare for and celebrate this season when we once again learn to look in the most unusual places for the God who created everything … found in a vulnerable baby.
All the churches of Portobello have services and activities throughout the Advent and Christmas period. There are carol services, and music concerts, quiet reflective spaces and spaces to celebrate with colour and noise … we're sure you will find a home in one of the churches which may help with your own celebrations, which may offer you a chance to connect with the God who created the world and yet loves each one of us, so much that He was prepared to become one of us. Below you will find the activities happening at St Mark's, if you'd like to explore other church traditions – all the churches of Portobello celebrate this time with different activities – please see here for their websites
All are welcome at any of our activies and services and all run in addition to normal Sunday (10.30am) and Thursday (10.00am) morning services.
Advent Activities:
Each Sunday evening:
Advent 1 – 3rd December: 5pm Christian Aid Carol Service – this year at St John's Church, Brighton Place. Join the different churches in Portobello to prepare for Advent and to raise money for the work of Christian Aid
Advent 2 10th December : 6.30pm Christmas Concert with the Dalkeith and Monktonhall Colliery Band – tickets priced at £8 and available from stmarkstickets AT gmail.com
Advent 3 – 17th December … 6pm Carols by Candlelight at St Marks – come and sing, listen and reflect using music, poetry and prose
Advent 4 – 24th December – Christmas Eve (see below)
Sunday 24th Christmas Eve: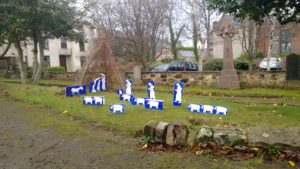 10.30 Service: A short said communion service for Advent 4
Crib service at 4pm : A Family Service … you are welcome to come dressed up as characters from the nativity story!
Midnight Mass at 11pm.
Monday 25th Christmas Morning:
10.30am Communion for Christmas – family service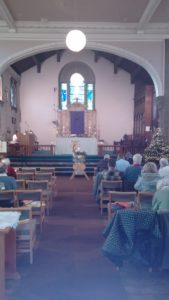 Wednesday 27th, 11.30-2pm Wednesday Wonderings … silly games, quizzes, and chat for Christmas … please our Lego Club for the young … and the young at heart!
Sunday 31st December 10.30am : Service of informal Communion to welcome the New Year
Sunday 7th January 10.30 We celebrate the Feast of the Epiphany … and a renewal of our Baptism Vows as we start the new year