IMPORTANT INFORMATION: Following government and Scottish Episcopal Church advice, we regret that services in the building at St Mark's are currently suspended and will not go ahead as normal. All house groups, prayer groups and Lent Groups meeting in person are also suspended. This is from 17 March 2020 until further notice. Click here for more information
We are reviewing and developing ways in which the congregation can stay in touch and support each other, share worship, and support the local community too.
If you would like to join us online for worship services on Sundays at 11am or Thursdays at 10am, please click here for more information.
Further updates will be posted on this website, on our Facebook Page and also communicated by email. Please also keep in touch by phone. If you are self-isolating, or are ill, please let us know.
You can get information from the NHS about coronavirus here:
https://www.nhsinform.scot/coronavirus
The Scottish Episcopal Church has updates on its website here: https://www.scotland.anglican.org/
————————————————————————————————————————————-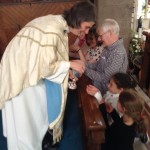 St Mark's is a Eucharistic community, gathering twice a week around the table for communion. All are welcome to receive communion.
We meet twice a week for communion, after all our services our fellowship continues as we have refreshments together:
On Sundays at 10.30am, we have a sung eucharist, using the 1982 Scottish Liturgy (modern words), we have a large Junior Church with children's activities during term time for some of the service, and occasional creative worship when we have all the congregation together for the whole service.
There is a short time for readings, prayers and silence to start the day every Wednesday at 9.30am.
On Thursdays at 10am we celebrate communion with a range of different services – twice a month we use the 1970 Liturgy (more traditional language), once a month we use the more modern 1982 and once a month we worship with liturgies from around the world.
On the first Tuesday of the month we meet at 2.45 for an informal service of communion using the modern language and including a short discussion around the gospel reading of the day.
All who wish to receive the bread and wine are welcome to do so. Alternatively, you can receive a simple blessing at this point in the service. If you struggle climbing the steps to the altar rail, please let a sidesperson know and we can bring communion to you in your seat. Gluten free wafers are always available, please make your need known.