Holy Week and Easter 2021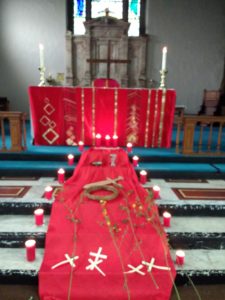 During Holy Week, the church commemorates the last week of Jesus' earthly ministry, which ended in his death on the cross, and his glorious resurrection on Easter Day.
It is the most important week of the Christian year and this year our times of prayer together will be very different.
Our services will continue on Zoom for most of Holy Week. The church building will open for private prayer on Good Friday and for Holy Communion on Easter Day. See below for further details.
Unless otherwise specified, all Zoom services will be with this link: Join Zoom Meeting (Meeting ID: 859 5830 8086 ; Passcode: 1357)
Palm Sunday (28 March)
We will worship together on Zoom on Palm Sunday (28 March) at 11am. Please do join us.
Normally we would process around the garden at church as we remember Jesus' procession into Jerusalem on a donkey. This was him entering the seat of power, as he continued his mission of healing, love and reconciliation. Processions are not possible on Zoom, but why don't you walk round your own neighbourhood praying for those you pass, the workplaces around and those with responsibility. Before you set out, you might like to read this passage from the Gospel of Mark and pray this prayer. You could do this walk before service and then join us as we prepare for the rest of Holy Week.
Almighty God, whose most dear Son walked the way of suffering and pain: mercifully grant, that I, along with all your people, walking in the way of his cross, may find it none other than the way of life and peace.
Open my eyes to see as you see, my ears to hear your whisper of love, and my mouth to proclaim your love of all you have created. As I walk today, may I know you with me, and may I have the grace and courage to pray for and bless all I see…. lead me and show me what you want me to see.
Let me proceed in peace. In the name of Christ. Amen
During the week
9am Monday – Thursday : we gather for prayers and readings
12.30 Monday – Thursday : we will meet every day at 12.30 on Zoom with all the churches of Portobello for 10-15mins of reading, prayer and reflection. During the week we will reflect on the stories of Holy Week as we move from Palm Sunday to Good Friday. (Join Zoom Meeting (Meeting ID: 873 5524 7186; Passcode: 327551)
The graveyard and gardens are open at all times and there are different places to sit and reflect on your own, including a Peace Pole, a memorial garden, a prayer tree and a bench under the cross.
There is also a temporary labyrinth at the back of the church.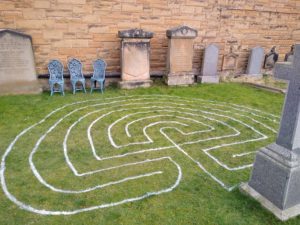 Reflections on YouTube for Holy Week:
7pm Maundy Thursday (1st April): On Maundy Thursday we remember Jesus' Last Supper with his disciples, when he commanded them to love one another. We gather on Zoom. If you would like – please bring something to eat and drink (biscuits, cheese, grapes etc) and have a bowl of water, a jug and a candle ready.
Good Friday: On Good Friday, the Christians of Portobello are using it as a time to pray for the world and especially for the people of Portobello as we reflect on Jesus' final walk to the cross. If you would like to join us, please download this walk of readings: Good Friday Morning. The prayer walk can be started at any time and at any bit of the circle as we walk around the area.
Then at 12.00 – the time when the gospel stories tell us that Jesus was crucified, we will gather together on Zoom for 15mins for prayer and reflection. (Join Zoom Meeting (Meeting ID: 873 5524 7186; Passcode: 327551)
Easter Day
On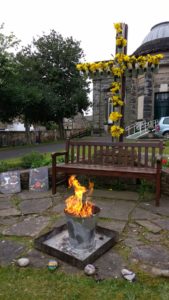 Easter Day our building will be open for Holy Communion services at 8am and 10am. Although numbers are limited, everyone is welcome to book a place.
Please email us to check availability (cometochurch@stmarksportobello.org).
There will be a Zoom Service at 11am. Join Zoom Meeting (Meeting ID: 859 5830 8086 ; Passcode: 1357)